Shea Butter – Vitellaria Paradoxa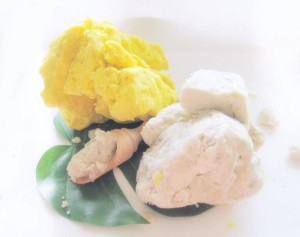 Shea Butter is a natural plant extract with exceptional moisturizing properties which comes from the karite or shea tree. The Shea tree, formerly Butryospermum paradoxum, is now called Vitellaria paradoxa. It produces its first fruit (which resemble large plums) when it is about 20 years old and reaches its full production when the tree is about 45 years old. It produces nuts for up to 200 years after reaching maturity. Many vernacular names are used for Vitellaria, which is a reflection of its extensive range of occurrence – nearly 5,000km from Senegal (west) to Uganda (east) across the African Continent. It usually grows to an average height of about 15m with profuse branches and a thick waxy and deeply fissured bark that makes it fire resistant. The Shea tree grows naturally in the wild in the dry Savannah belt of West Africa from Senegal in the west to Sudan in the east, and onto the foothills of the Ethiopian highlands. It occurs in 19 countries across the African continent, namely Benin, Ghana, Chad, Burkina Faso, Cameroon, Central African Republic, Ethiopia, Guinea Bissau, Cote D'Ivoire, Mali, Niger, Nigeria, Senegal, Sierra Leone, Sudan, Togo Uganda, Zaire and Guinea.
Shea Butter is used in cosmetics, pharmaceuticals and in Europe it is also used in the confectionery and chocolate industry as a cocoa butter substitute.
People of all ages and skin types utilize shea butter because of its many uses. Every house should have a jar of shea butter for smoother skin or for treatment of minor skin injuries around the house. Shea butter can be used to treat various skin problems including dry skin, psoriasis, burns, blemishes, eczema, wrinkles and stretch marks. Other uses: Adds and maintain moisture to dry and brittle hair, revitalizes, repairs breakage & split ends and promotes hair growth.
Benefits:
Eczema, Infant eczema
Dermatitis
Dry skin, dry scalp and hair
Psoriasis
Cracked skin
Cracked, bleeding skin
Cuticle repair
Itchy Skin
Muscle fatigue, tension & aches
Rough heels
Rheumatism
Arthritis
Sunburn relief
Skin rashes, diaper rash
Scars
Surgical incisions and scars
Skin blemishes, dark spots
Stretch marks prevention
Wrinkle, fine line reduction & formation
Reactivation of collagen synthesis
Increases skin balance, elasticity and tone.
Amazing skin moisturizer
Protect skin during cold weather
Shaving Cream
There are two main varieties of shea butter, Butyrospermum Parkii (West African) and Vitellaria Nilotica (East African). Butyrospermum Parkii is produced in West Africa where as Vitellaria Nilotica is produced only in Northern Uganda and Southern Sudan. At room temperature Eastern African shea butter is softer than West African shea butter. It is creamier and silky, making it quick and easy to apply. Eastern African shea butter is also slightly in higher therapeutic properties. Eastern shea butter has a sweeter scent than West African shea butter. Eastern African shea butter is rarer because of lower shea production and also because of civil unrest in Uganda and Sudan.
There are many differences between unrefined and refined shea butter. Most noticeably are the scent, color and benefits. Unrefined shea butter maintains its nutty scent, ivory – beige color and all of its healing properties. Refined shea butter has been chemically altered to remove shea butters natural scent, is bleach white in color and retains only a small portion of its natural healing properties.
We use Organic Shea Butter in almost all our products!