Theobroma Cacao
Cocoa butter, also called cacao butter, is the cream-colored fat extracted from cacao seeds (cocoa beans) and used to add flavor, scent, and smoothness to chocolate, cosmetics, tanning oil, soap, and a multitude of topical lotions and creams.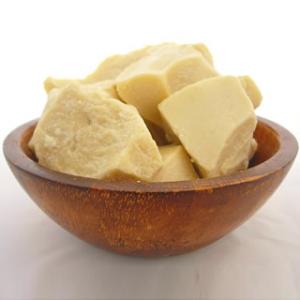 Cocoa butter has been called the ultimate moisturizer, and has been used to keep skin soft and supple for centuries. It is one of the most stable, highly concentrated natural fats known, and melts at body temperature so that it is readily absorbed into the skin. Cocoa butter is often recommended for treatment of skin conditions such as eczema and dermatitis. When applied topically, it creates a barrier between sensitive skin and the environment and also helps retain moisture. In addition, cocoa butter contains cocoa mass polyphenol (CMP), a substance that inhibits the production of the immuno globulin IgE. IgE is known to aggravate symptoms of both dermatitis and asthma.
Pregnant women have long used to cocoa butter formulations to prevent and treat stretch marks, but this pleasant smelling substance is added to countless other topical preparations as well. Lotions and oils containing cocoa butter are often used in aromatherapy massages to promote feelings of relaxation and well-being.
Recent research indicates that massaging the skin with cocoa butter may help relieve stress, boost the immune system, and even prevent cancer. This is because cocoa butter, like chocolate, contains a lot of CMP. Researchers in Japan reported that CMP inhibits the growth of cancerous cells and tumors by reducing active oxygen levels in the body, and concluded that CMP inhibits the oxidation of LDL (good) cholesterol and the production of inflammatory cells; there is some evidence that the CMP in cocoa butter may also help prevent heart disease and ease arthritic symptoms.
Preliminary research indicates that CMP actually helps suppress excessive T-cell activity in the immune system, which could help treat conditions associated with overactive immune systems, such as psoriasis, fibromyalgia, and chronic fatigue syndrome.
Cocoa butter is found in chocolate of course, and as previously stated, is an ingredient in countless topical preparations.
Chocolate and cocoa derive their health benefits from flavonoids which are plant pigments capable of acting as antioxidants to counteract some of the cellular damage that can lead to chronic diseases such as cancer and heart disease. Cocoa powder has also been shown to lower blood pressure and improve blood flow in humans.
A cup of cocoa has almost three times the antioxidants of a cup of green tea, another drink renowned for its health benefits. With all of the antioxidant capabilities of cocoa it may seem like a no-brainer to add dark chocolate and cocoa to your diet, when consumed in reasonable quantities.
More on Cocoa Butter, references and research…
---
Our products made with Cocoa Butter: